Shape Sorter | Educational Apps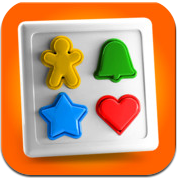 Shape Sorter is the perfect app for toddlers. Educational, enticing and all in a Christmas theme! Your little ones won't want to stop playing.
They can change the color of the blocks with a tap of the button. Did I mention the app is free??
This app is presented to us by Pronetis.
The background music is great!
Change the box colors!
Shape Sorter – Early Learning Blocks – Croco Studio
This app is a great addition to your kid's toolbox for life!
Thanks so much for visiting our site! Please consider using our buy button as the cost is the same to you and helps us to keep reviewing.
Meet The Developers!
What was the initial inspiration for Shape Sorter?
Some young developers, part of our team, had the chance to meet some specialists. After "talking" and crawling together with their own kids at home, the challenge was launched – take the favorite item from the toy box and create a superior, virtual copy. ~ George Ene
 What is your favorite aspect of your app?
We pay attention to many details and maintain a clean design at the same time. Simple and yet entertaining for kids. ~ George Ene
 Is there anything else you would like to share with our readers?
This is a first version and only the beginning, we are already working on great new features. We appreciate feedback and ideas! Join our brainstorming, we are curious about your "specialists" at home! ~ George Ene