Jazzy World Tour – Musical Journey for Kids | Apps For Kids
The Jazzy World Tour – Musical Journey for Kids is an app that is sure to be well-used in any early elementary classroom. We highly recommend this app to our readers as the perfect app to gift to your favorite teachers.  FREE lesson plans for Jazzy World Tour are posted on the website link below. Of course, homeschooling caregivers and parents who are actively involved will see it is also a strong support app to use at home.
This award winning app is presented to us by The Melody Book, developers of a full library of enticing educational apps.
It's the perfect app if you are traveling worldwide. Even better, it's loaded with cultural information that will spark your kid's imagination and stimulate their desires to want to know more about countries they may want to visit 😉 It's a wonderful way to introduce diversity and a great tool to open dialogue on other countries. If your kids are already acquainted with other students from another culture, Jazzy World Tour would be a something they could share and learn from.
Float on a magic journey across the world and back. Each destination allows for learning time, play time, and photos/video shoots. The memory books that are created can be shared with friends via email or saved to your photos. Every stop has fun filled facts on musical instruments, animals, foods,  and culture from around the world.
This app is ad free and kid-safe. Check out the videos below and be assured of the high quality and content that makes this app the perfect addition to your kid's Toolbox for life. The educational value is clear and the play is endless and sure to spark continued interest in the instruments, dress, and overall culture of each country.
You can check out the sister app, Jazzy Day, right here. Just type Jazzy into the search box (upper right)
Meet The Developer!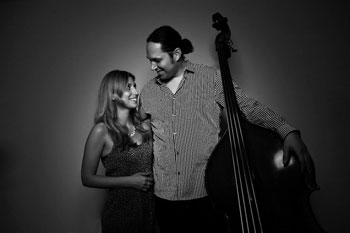 The Melody Book was founded by software developer Dana Morgan and jazz musician Daniel Ori. Our mission is to educate children about what we know and love the most, music!
What was the initial inspiration for your app?
The initial inspiration for Jazzy World Tour was to expose kids to the beautiful, rich and diverse music and cultures that exist in countries all over the world.
What is your favorite aspect of this app?
Our favorite aspect of Jazzy World Tour is the travel book, in which you can save photos and videos of your creations from each country and share them with your teachers, parents, and friends.
Is there anything else you'd like to share with our readers?
Jazzy World Tour was designed as an open play learning app. We wanted kids to "travel" around the world with no limitations. Users are invited to explore each country's "learn", "play" and "create" sections. With our latest version, Jazzy World Tour has a quiz section for each country. Kids can test their knowledge and share the results!
Visit Us: