Kids Christian Bible with daily family prayer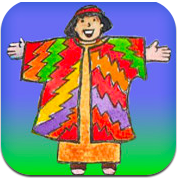 The Little Ones Bible is just in time to help kick off the holiday season! The app is presented to us by the same developers that brought us Moses (the app), fluffyBrownBear.com. An Old & New Testament for kids comes complete with a question (the perfect way to open a dialogue) and a prayer on every page, with 24 stories in all. Kids can earn badges of achievement as they continue reading! The graphics and narration are perfect and this is a highly recommended tool for Parents, Sunday School Teachers and Caregivers. Now available on the iPhone 4 & 5 retina.
 A Look at The Old Testament!
Jesus The  Teacher!
This app is a great addition to your kid's toolbox for life!
Thanks so much for visiting our site! Please consider using our buy button as the cost is the same to you and helps us to keep reviewing.
Meet The Developers!
What was the initial inspiration for  Little One's Bible?

My Aunty,  Eira Goldsworthy has been in publishing for 30 years as a children's illustrator and author with over 85 titles published. We decided to team up earlier this year and this is our second book together.

What is your favorite aspect of your app?

Fitting in 24 Bible stories with large colourful illustrations on every page, more than days in the year !

Is there anything else you would like to share with our readers?

I'm from the UK and live in San Francisco. My Aunty lives on an Island just south of the UK.

Thanks to the internet we communicated very well and it was a great family partnership.

We are currently planning our future interactive books and it's a joy to be working together.

@fluffybrownbear On Twitter

Eira Goldsworthy has been in publishing for 30 years as a children's illustrator and author with over 85 titles published. She is inspired by several trips to Israel and the Bible/Torah

Her published books titles are under the titles of Religion and Education and many have gone worldwide

Eira works in her art studio in the UK where she is also inspired to complete all her illustrations in colorful watercolors.

She has teamed up with her nephew, Nick, to produce 'The Little One's Bible'

For previous children's books illustrated by Eira, please search for EIRA REEVES.
Personal website : www.eiragoldsworthy.com