Zak & Zelda Wake Up | Perfect Kids Yoga App!
Zak & Zelda Wake Up is an app that should be in every classroom and home in the world!  Fortunately, This is the 1st in a series with the 2nd one to be available soon! Kids love to pose so this is a no-brainer enticing app! Yoga can provide huge benefits for kids. Not only educationally, but physically, spiritually, and more. Yoga itself is a form of meditation – focusing on the body and relaxing the mind. The educational benefits are fantastic as well as a sense of well being that can solve many of the problems school kids encounter. Quieting the mind leads to a more open mind. That is a priceless gift! The poses included in this app are tree, baby bird, porridge, toast, cat, dog, and sun! What a wonderful daily practice for a family and a classroom! This app is presented to us by Zak Star Productions Ltd.
 Learn Yoga Poses with Zak and Zelda!
Include Yoga All Day!!
This app is a great addition to your kid's toolbox for life!
Thanks so much for visiting our site! Please consider using our buy button as the cost is the same to you and helps us to keep reviewing.
Meet The Developer!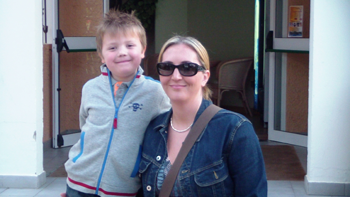 What was the initial inspiration for your app?
I've taught yoga to children for six years and know how much children love it.  Along the way a lot of parents have asked if there was something they could do at home with their children too and so a seed was sown….  My little boy Zak has been a yogi since the day he was born so I decided to create an app using his name – and to make it accessible to girls too Zelda was born!
What is your favorite aspect of your app?
I love the drawings and the colour – it's everything I wanted it to be – and luckily Zak loves it too.
Is there anything else you would like to share with our readers?
I wanted the app to be bright, fun and with lots of interaction and I hope I've succeeded…I've attached 2 pictures – when Zak was younger (to the left)and when the initial idea began and one as we are now!
@zakandzelda