Lucy Ladybird | Apps For Kids
Lucy Ladybird  wants to be like all her friends but she has no spots! Lucy Ladybird is loaded with animation and hidden surprises for you and your kids to tap away and explore! Kids will be learning about colors & seasons, friendship & sharing.
This is a great app to open a dialogue about being different and just how special our differences make us. Acceptance is a wonderful life lesson in this app and can become a skill for life for kids!  This is a perfect Teacher Tool to reinforce social skills. There are coloring activities and a karaoke song included. Lucy Ladybird is presented to us by Sharon Chai.
Meet Lucy!
Coloring!
Karaoke! We'll Leave The Singing To You 🙂
This app is a great addition to your kid's toolbox for life!
Thanks so much for visiting our site! Please consider using our buy button as the cost is the same to you and helps us to keep reviewing.
Meet The Developer!
 What was the initial inspiration for your app?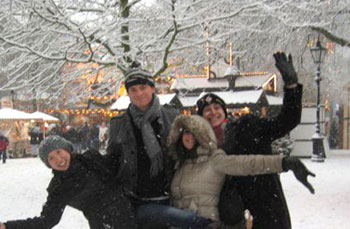 Lucy Ladybird is a story I wrote and illustrated as a physical book, but always had an interactive app version in mind. The idea came to me one night when I couldn't sleep, and I loved the simplicity of it. It broaches the ideas of being different, sharing, acceptance and friendship. From a visual point of view, I love the idea of all the colour spots being symbolic of all the different friends met along the way.
Iain Clark is a very talented developer and friend, who volunteered to create the app, so here we are now!
What is your favorite aspect of your app?
I love all the surprises- every page has something different to discover. The karaoke video is also very fun, as it features a very special song written by talented singer/songwriter Kirsty Almeida
 Is there anything else you would like to share with our readers?
There's a Lucy Ladybird website complete with lots of fun activities and games, as well as free downloads- including the song and wallpapers (for everything from desktop, to iPhones and iPads).
We also have a special stop motion paper animation, by award wining animators Line Andersen and Mikkel Hansen.